I'm offering a FREE in-home color consultation (call Darek at) 719.432.9547
Serving Colorado Springs, Pueblo, Monument, Castle Rock, Denver ... and all areas in between.
(If you would like to spruce up your place with decorative finishes, plasters and/or a mural, please click on the link below or on the picture of a painter (me) with the a brush. It will take you to my other site devoted to decorative painting services that I'm providing in Colorado.)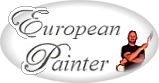 And don't forget to grab my 15% discount coupon for all types of painting projects!